The franking machine market is one that is dominated by a handful of heavyweights, offering everything from basic models to advanced solutions with all sorts of bells and whistles. Amidst the myriad options, the FP Mailing PostBase Mini has positioned itself as a compact and efficient machine aimed at small businesses.
If you're a business owner wondering whether this model is suitable for your needs, you've come to the right place. This review will cover its features, pros, and cons, as well as some considerations for your business.

FP Mailing PostBase Mini at a glance
| Specification | Details |
| --- | --- |
| Dimensions | Compact desktop size |
| Processing Speed | Up to 17 letters per minute |
| Weighing Scale | Integrated, up to 2kg |
| User Interface | Touchscreen |
| Connectivity | LAN |
| Cost-saving | Eligible for Royal Mail franking discounts |
| Power Source | Mains powered |
| Additional Features | None |
FP Mailing PostBase Mini specification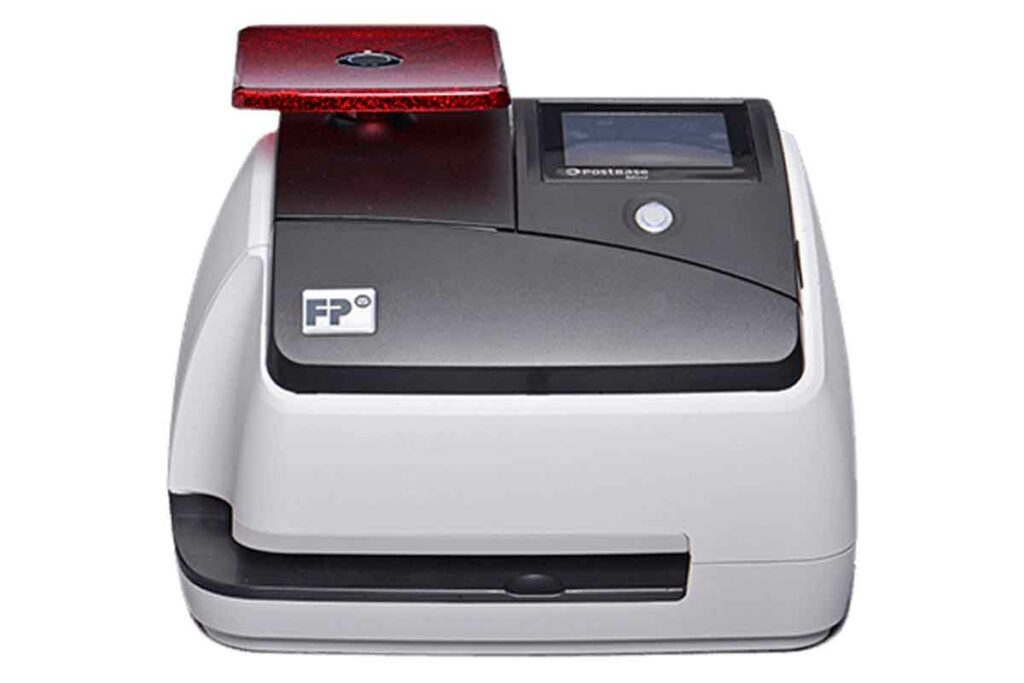 Features
Compact design
The first thing you'll notice about the PostBase Mini is its size. Designed to fit comfortably on a desktop, it is ideal for businesses with limited space. Despite its small footprint, it doesn't compromise on functionality.
Easy to use
User-friendliness is a strong suit of this machine. The PostBase Mini has an intuitive touchscreen interface that simplifies mailing operations. Even those who aren't tech-savvy will find the device quite easy to operate.
Compare quotes for mail franking solutions
Takes 2 minutes
Receive quotes to compare
Easy and no commitment
Get Started
Efficient processing
The machine boasts a processing speed of up to 17 letters per minute. While this might not be sufficient for larger businesses, it's certainly adequate for small to medium enterprises (SMEs) with moderate mailing needs.
Integrated scale
A built-in, 2kg weighing scale helps to ensure accurate postage. This saves you the hassle of having to weigh letters separately, thereby streamlining the mailing process.
Cost-saving
Franking machines generally save money compared to traditional stamps, and the PostBase Mini is no exception. The machine allows you to take advantage of Royal Mail franking discounts, which can result in substantial savings over time.
Pros and cons
Pros
Compact and space-saving
User-friendly interface
Inbuilt weighing scale
Cost-efficient
Adequate for small volume mailing
Cons
Not suitable for businesses with high-volume mailing requirements
Limited to basic franking needs
No advanced analytics or reporting features
PostBase Mini pricing – purchase and rental costs
When it comes to pricing, the FP Mailing PostBase Mini offers a flexible range of options to suit different business budgets and needs.
Get tailored franking prices to compare
Give your requirements
Receive quotes to compare
Choose a provider or walk away - your choice!
Get My Quotes
| Pricing Option | Cost Range | Included Services | Additional Costs |
| --- | --- | --- | --- |
| Purchase | £1,000 – £1,500 | N/A | Ink, labels, maintenance |
| Rental | £20 – £50/month | Maintenance & servicing | Ink, labels |
| Financing | Variable | Depends on contract | Interest, possible fees |
FP Mailing PostBase Mini prices
Purchase
The cost of purchasing the machine outright generally ranges from £1,000 to £1,500. It's a one-time investment that can be advantageous for businesses that prefer owning assets rather than renting.
Keep in mind that maintenance and repairs will be your responsibility if you opt for this route. Also, the cost of consumables, such as ink and labels, will be an ongoing expense.
Rental
If you're hesitant about making an upfront investment, renting is another option. Rental fees typically range from £20 to £50 per month, depending on the contract's length and terms.
This option is attractive because it usually includes maintenance and servicing, providing peace of mind for businesses that are not equipped to handle machine upkeep.
Renting can also be tax-efficient, as the monthly payments are usually tax-deductible as a business expense.
Financing
Some providers offer financing options, allowing you to spread the cost of the machine over a period of time. This can make it easier to manage cash flow and also allows you the flexibility to upgrade to a more advanced model as your business grows.
Be careful with contracts
It's advisable to thoroughly read the terms and conditions, especially in rental or finance contracts, to ensure you're aware of all costs involved, including any potential charges for early termination, maintenance, or exceeding a specified usage limit.
Considerations for your business
Before investing in the PostBase Mini, consider your business's specific needs. If you're an SME with moderate mailing requirements and limited space, this machine could be an excellent fit. However, if your business is growing rapidly or if you require more advanced features, you might want to consider other options.
The verdict – FP Mailing PostBase Mini
The FP Mailing PostBase Mini franking machine offers a strong blend of functionality and simplicity, making it ideal for small businesses. Its compact design, user-friendly interface, and inbuilt weighing scale are all commendable features. However, the machine may not meet the needs of larger businesses with more substantial mailing volumes or more complex requirements.
If you fit the target demographic for this machine, it offers a solid return on investment, thanks in part to the Royal Mail discounts available for franked mail. Overall, the PostBase Mini is a worthy contender in the franking machine market for small enterprises.