In the UK, franking machines have become a vital asset for businesses looking to streamline their postage process and save money. The Pitney Bowes DM100 franking machine is an entry-level model designed for small to medium-sized businesses.
This review will delve into its features, usability, and overall value to help UK businesses decide if it's the right choice for their mailing needs.
Pitney Bowes DM100 at a glance
| Specification | Detail |
| --- | --- |
| Processing Speed | Up to 30 letters per minute |
| Scale Capacity | Integrated scale with 2.5 kg limit |
| Envelope Feeding System | Manual |
| Max Envelope Thickness | 9.5 mm |
| Job Presets | Up to 5 |
| Connectivity | LAN, Optional Analog Phone Line |
| Dimensions (W x D x H) | 345 x 400 x 230 mm (approximate) |
| Weight | 8.8 kg (approximate) |
| Print Technology | Inkjet |
| Print Resolution | 300 dpi |
| Ink Cartridge | Proprietary Series |
| Advertisement Slogans | Customisable, multiple available |
| Account Reporting | Up to 25 accounts |
| Postal Rate Management | Smart Meter Technology |
| User Interface | LCD display with navigation buttons |
| Power Supply | 100-240V AC, 50/60Hz |
Pitney Bowes DM100 specification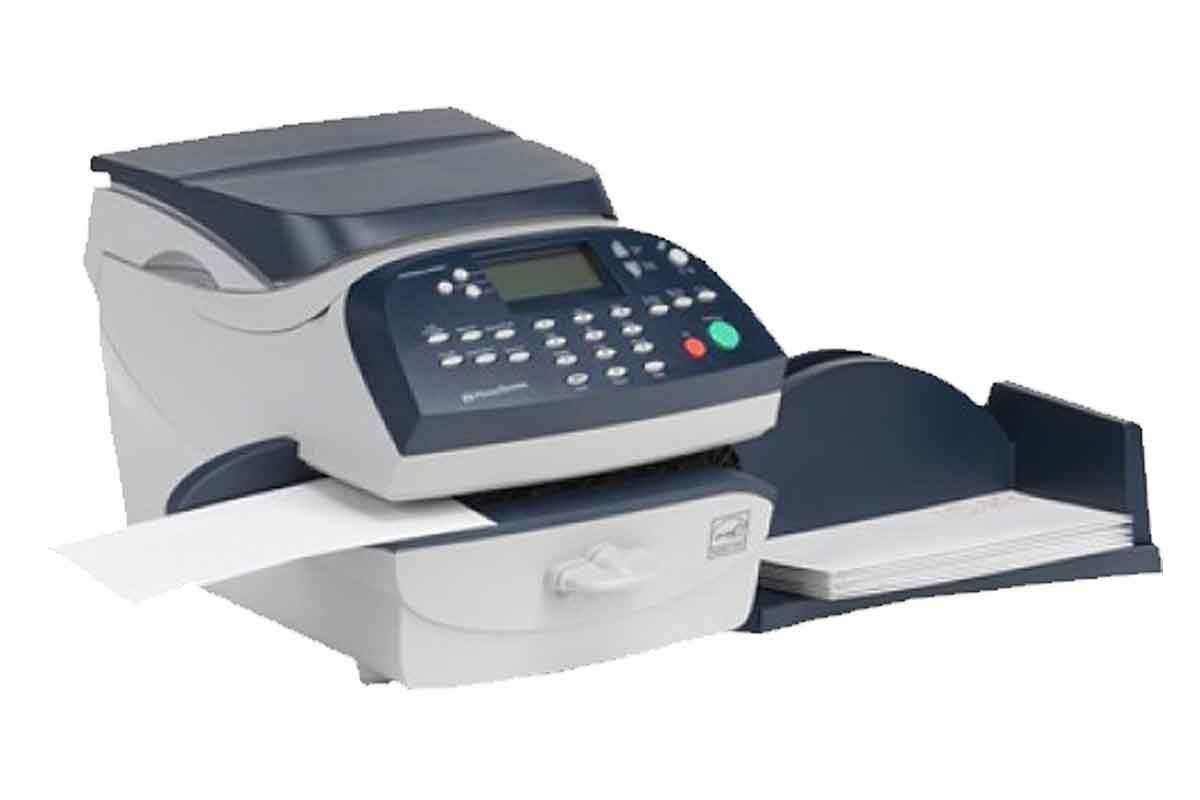 Features and functionality
The DM100 is touted for its intuitive features that aim to make mail processing simpler and more cost-effective. One of the key selling points is its ability to frank mail at much faster rates than stamping by hand, with the capacity to process up to 30 letters a minute. For businesses that send out substantial volumes of mail, this can translate into considerable time savings.
Compare quotes for mail franking solutions
Takes 2 minutes
Receive quotes to compare
Easy and no commitment
Get Started
Another significant advantage of the DM100 is the integrated weighing platform, which eliminates the guesswork from postage calculations. It can weigh envelopes and packages up to 2.5 kg, ensuring accurate postage prices. This feature is particularly useful given the Royal Mail's complex pricing structure, which can vary according to size and weight.
The DM100 also offers tariff management with its Smart Meter technology, allowing businesses to take advantage of VAT reclaim and access to Royal Mail discounts for franked mail, which can lead to substantial cost savings over time. The machine includes a range of up-to-date postal tariffs, which are easy to update through an internet connection or telephone line.
Usability and design
When it comes to usability, the DM100 scores highly with its compact design and ease of use. The machine features a clear display and a user-friendly interface, making it accessible even for those who are not particularly tech-savvy. The installation process is straightforward, and users can start franking quickly after setup.
The machine also offers customisable advertising slogans or company logos that can be printed alongside the franking mark. This gives businesses the opportunity to enhance their brand visibility with every piece of mail they send.
Get tailored franking prices to compare
Give your requirements
Receive quotes to compare
Choose a provider or walk away - your choice!
Get My Quotes
Maintenance and support
Pitney Bowes provides a comprehensive support structure for the DM100. The machine requires regular ink cartridge replacements, which are readily available from Pitney Bowes and authorised dealers. Moreover, the company offers online and telephone support to assist with any technical issues or queries that may arise.
DM100 price and costs
For businesses interested in the Pitney Bowes DM100 franking machine, approximate costs are an important factor to consider. While exact prices will vary depending on suppliers, contractual details, and potential promotions, here's a general guide based on historical data and market trends:
Purchase: The outright purchase of a DM100 model could range from approximately £1,000 to £2,000. This price usually includes the machine itself and may also cover a starter kit with initial supplies, but keep in mind that ongoing expenses for ink, labels, and maintenance will add to the total cost of ownership over time.
Rental: Monthly rental rates for the DM100 can vary broadly but are generally in the ballpark of £20 to £100. This variance depends on the service package chosen, which can include maintenance and support, and sometimes consumables like ink. Some rental agreements also offer the flexibility of upgrading to newer models as they become available.
For the most current and accurate pricing information, reaching out directly to Pitney Bowes or an authorised distributor is the best course of action. They will provide detailed and customised pricing that reflects the latest offers and the specific needs of your business.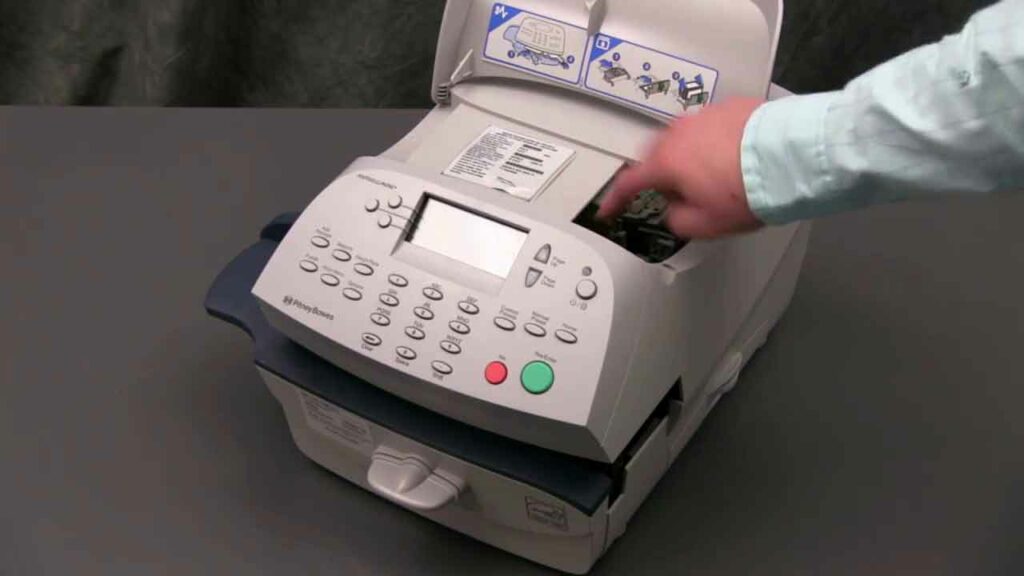 Value for money
While the initial cost of purchasing or leasing the DM100 can be a consideration for smaller businesses, the long-term savings on postage and the time saved in mail processing must be factored into the overall value assessment. The DM100 can also help avoid the potential costs associated with over or under-stamping, thanks to its accurate weighing and tariff calculation features.
Pitney Bowes DM100 – The verdict
The Pitney Bowes DM100 franking machine is a sound investment for UK businesses that regularly send out mail and are looking to cut costs and increase efficiency. With its range of user-friendly features, reliability, and the backing of Pitney Bowes' support, it's an asset that can modernise and streamline any business's mailing process.
However, each business should assess its specific mailing needs and volume to ensure that the DM100 is the appropriate model for them, and consider the long-term savings against the initial outlay.