As businesses in the UK continue to navigate the intricacies of modern postal requirements, franking machines remain an essential tool for efficient mail handling and cost management. FP Mailing, a renowned manufacturer of postal equipment, offers the PostBase Vision series, a range of franking machines designed to cater to different volumes of mailing needs.
In this review, we will compare the four models in this series – the Vision 3S, 5S, 7A, and 9A – to help you decide which may best suit your business's postal operations.
FP Mailing PostBase Vision franking machines compared
| Specification | Vision 3S | Vision 5S | Vision 7A | Vision 9A |
| --- | --- | --- | --- | --- |
| Processing Speed | 30 letters/min | 50 letters/min | 75 letters/min | 120 letters/min |
| Daily Volume | Up to 200 items | Up to 300 items | Up to 500 items | Over 800 items |
| Integrated Scale | 2 kg | 5 kg | 7 kg | 10 kg |
| Thickness Capacity | 5 mm | 8 mm | 10 mm | 16 mm |
| Connectivity | LAN, Wi-Fi | LAN, Wi-Fi | LAN, Wi-Fi | LAN, Wi-Fi |
| Mailmark Ready | Yes | Yes | Yes | Yes |
| Differential Weighing | No | No | Yes | Yes (Dynamic weighing) |
| Label Dispenser | Manual | Automatic | Automatic | Automatic |
| Power Conveyor Stacker | Not Available | Not Available | Optional | Included |
| Dimensions (approx.) | Compact Desk Size | Small Desk Size | Medium Desk Size | Large Desk Size |
FP Mailing PostBase Vision franking machine models compared
Please note that these specifications can vary slightly depending on the specific model and configuration. It's advisable to check with the manufacturer or a certified supplier for the most accurate and detailed specifications when considering a franking machine for your business needs.
Understanding franking machines
Franking machines, or postage meters, are devices used by businesses to imprint a mark on a letter or parcel indicating that postage has been paid. The benefits of using a franking machine include reduced postage costs, time savings, and professional-looking mail.
Compare quotes for mail franking solutions
Takes 2 minutes
Receive quotes to compare
Easy and no commitment
Get Started
The FP PostBase Vision series – A brief overview
FP Mailing's Vision series is designed with the modern business in mind, offering a user-friendly interface, integrated weighing scales, and connectivity options that streamline the mailing process. Each model in the series is built to handle a specific range of mail volumes, making it easier for businesses to find a match for their needs.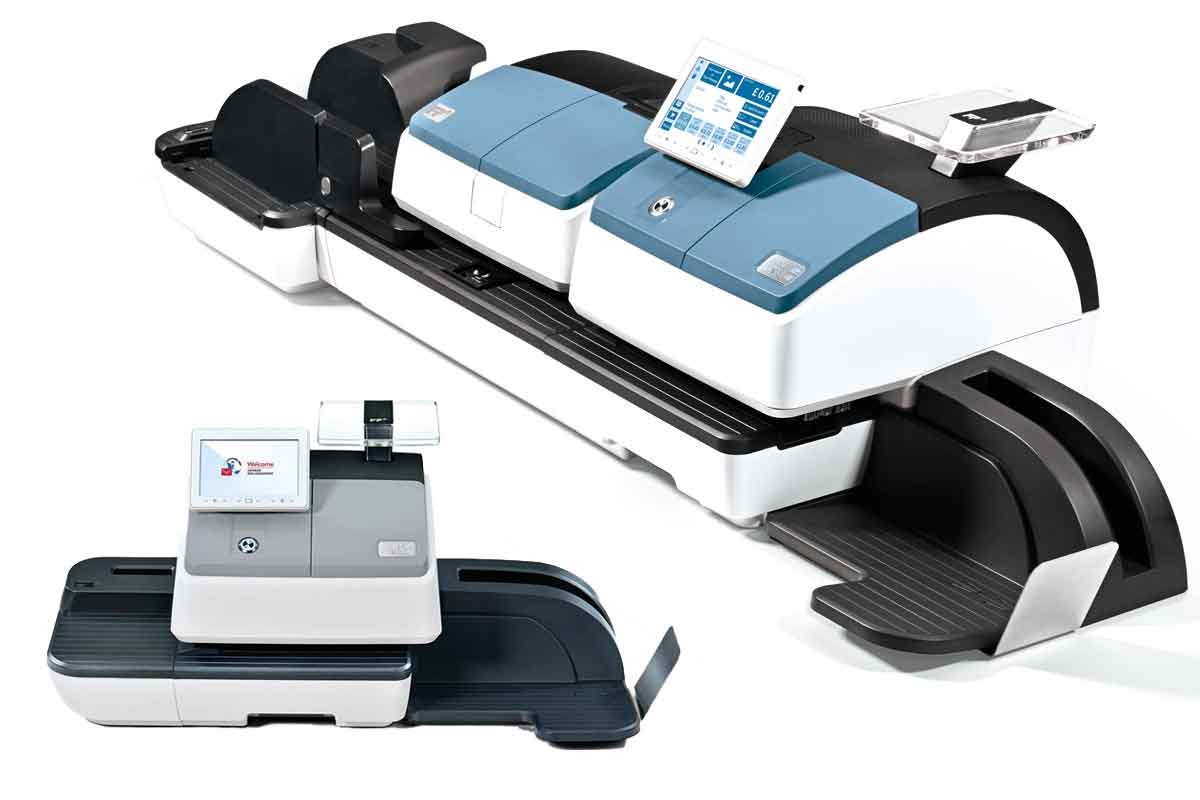 FP Mailing Vision 3S
The Vision 3S is the entry-level model, ideal for small businesses with moderate mailing needs. It processes up to 30 letters per minute and can handle up to 200 items daily. Its compact size allows for easy placement on a desk, and its intuitive touchscreen interface makes operation straightforward. The 3S is perfect for companies that are starting to grow their mailing operations and require a reliable, cost-effective solution.
Key features:
30 letters per minute
2 kg integrated scale
5 mm thickness capacity
FP Mailing Vision 5S
Stepping up, the Vision 5S accommodates medium-sized businesses that regularly send out mail. This model increases processing to 50 letters per minute and is capable of handling a recommended volume of up to 300 items per day. Additionally, it comes with a larger scale (up to 5 kg) and enhanced features such as automatic label dispensing for packages.
Get tailored franking prices to compare
Give your requirements
Receive quotes to compare
Choose a provider or walk away - your choice!
Get My Quotes
Key features:
50 letters per minute
5 kg integrated scale
Automatic label dispenser
8 mm thickness capacity
FP Mailing Vision 7A
The Vision 7A is aimed at businesses with larger mailing requirements. With the ability to process up to 75 letters per minute and a recommended volume of up to 500 items per day, it is a substantial step up from the 5S. The 7A model also offers differential weighing, which speeds up the processing of mixed mail. This is a substantial advantage for businesses with diverse mailing needs.
Key features:
75 letters per minute
7 kg integrated scale
Differential weighing
10 mm thickness capacity
FP Mailing Vision 9A
The Vision 9A is the powerhouse of the series, designed for large businesses and mailrooms that handle high volumes of post. It processes up to 120 letters per minute and is designed for an estimated volume of over 800 items per day. The 9A also offers advanced features such as dynamic weighing and a power conveyor stacker, which streamlines the handling of large batches of mail.
Key features:
120 letters per minute
10 kg integrated scale
Dynamic weighing
Conveyor stacker
16 mm thickness capacity
FP PostBase Vision prices and costs
When considering the prices of a franking machine, businesses often weigh the options of renting versus purchasing outright. The decision largely depends on the company's cash flow, the volume of post they handle, and how often they expect their mailing needs to change.
| Model | Rental Per Month (Estimated) | Purchase Price (Estimated) |
| --- | --- | --- |
| Vision 3S | £20 – £30 | £1,000 – £1,500 |
| Vision 5S | £40 – £50 | £2,000 – £3,000 |
| Vision 7A | £60 – £80 | £4,000 – £5,000 |
| Vision 9A | £100+ | £6,000 – £8,000+ |
FP Mailing PostBase Vision prices and costs
Rental pricing
Renting a franking machine like the FP Mailing Vision series is a popular choice for many businesses, as it provides a lower upfront cost and the flexibility to upgrade as needs change. For the entry-level Vision 3S, businesses can expect to pay an estimated rental price of around £20 to £30 per month. Moving up to the Vision 5S, the rental cost may increase to between £40 and £50 per month, reflecting its higher capacity and additional features.
The more advanced models, such as the Vision 7A and 9A, will naturally command higher rental prices due to their enhanced speed and capabilities. The 7A may cost in the region of £60 to £80 per month, while the top-tier 9A could be around £100 or more per month to rent.
These rental prices often include service and maintenance plans, which can be a significant advantage, ensuring the machines are always in top working order without additional costs.
Purchase pricing
Purchasing a franking machine outright requires a larger initial investment but can result in long-term savings. The cost to purchase a new Vision 3S model could be estimated at around £1,000 to £1,500. The mid-range Vision 5S may be priced between £2,000 and £3,000. As with any capital expenditure, purchasing provides the benefit of ownership and may also offer tax advantages through capital allowances.
The more sophisticated Vision 7A model could be expected to set a business back around £4,000 to £5,000, while the high-end Vision 9A may cost upwards of £6,000 to £8,000 or more, depending on the supplier and package options selected.
It's important to note that these figures are estimates and can vary based on supplier, contractual terms, and any additional features or services a business may require.
Additionally, it's worth considering that purchased machines might incur separate maintenance and service costs, which can add up over time. Therefore, it's advisable for businesses to thoroughly research their options, obtain quotes from multiple suppliers, and consider how the costs fit into their overall budget and mailing needs.
Choosing the right Vision model for your business
When selecting a franking machine from the Vision series, consider your average daily mail volume and the potential for growth. The 3S and 5S are excellent choices for small to medium-sized enterprises, while the 7A and 9A cater to larger businesses with more substantial mailing needs.
Final thoughts – FP Mailing PostBase Vision franking machines
Each model in FP Mailing's Vision series is equipped with LAN and Wi-Fi capabilities, ensuring that they stay connected for postage rate updates and online services. The machines are also Mailmark-ready, enabling users to take advantage of the lowest postage rates and offering enhanced tracking capabilities.
In conclusion, the FP Mailing Vision series offers a range of efficient and user-friendly franking machines suitable for a variety of business sizes and mailing volumes. By evaluating your business's needs and comparing the features of the 3S, 5S, 7A, and 9A models, you can select a franking machine that not only saves on postage costs but also enhances your mailing processes.