In an era where digital communication reigns supreme, traditional mail remains a vital cog in the machinery of British business. For enterprises large and small, the efficiency with which post is handled can significantly impact operations. Enter MailMark franking machines, the latest evolution in mail processing technology.
This article will explain what MailMark franking machines are, detail their operational mechanisms, and provide guidance on how businesses can integrate them into their mailing processes.
What are MailMark franking machines?
MailMark franking machines are an advanced type of postage franking technology introduced by Royal Mail. They utilise the latest in barcode technology to streamline the process of sending mail.
These machines are distinct from older franking machines as they print a two-dimensional barcode onto mail items, which contains detailed information about the post.
Compare quotes for mail franking solutions
Takes 2 minutes
Receive quotes to compare
Easy and no commitment
Get Started
The introduction of MailMark technology represents Royal Mail's commitment to modernising its services and providing businesses with more efficient and cost-effective mailing solutions.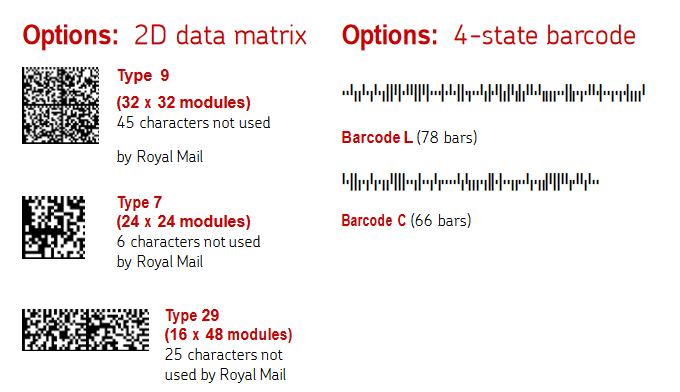 MailMark franking tariffs and rates 2023
| Item Type | Weight up to | Mailmark Price 1st Class | Mailmark Price 2nd Class |
| --- | --- | --- | --- |
| Letter | 100g | £0.76 | £0.65 |
| Large Letter | 100g | £1.15 | £0.88 |
| Large Letter | 250g | £1.64 | £1.40 |
| Large Letter | 500g | £2.14 | £1.83 |
| Small Parcel | 1kg | £3.85 | £3.20 |
| Small Parcel | 2kg | £5.57 | £3.20 |
| Medium Parcel | 1kg | £6.00 | £5.30 |
| Medium Parcel | 2kg | £9.02 | £5.30 |
| Medium Parcel | 5kg | £15.85 (Tracked) | Not available |
| Medium Parcel | 10kg | £21.90 (Tracked) | Not available |
| Medium Parcel | 20kg | £33.40 (Tracked) | Not available |
MailMark prices
For the latest and most accurate pricing information for Mailmark, businesses should check the Royal Mail's official website or reach out to an authorised franking machine supplier who can provide current rates and additional details on how to get set up with Mailmark.
Best MailMark franking machine models
Small businesses
For small businesses with lower mail volumes, compact and cost-effective machines are ideal.
Pitney Bowes DM60 – This is an entry-level franking machine suitable for businesses sending up to 30 mail items per day.
FP Mailing PostBase Mini – Known for its simplicity and small footprint, it's a good fit for small offices.
Frama Matrix F12 – A compact model that offers ease of use and is designed for businesses with moderate mailing needs.
Medium-sized businesses
Medium-sized businesses typically require a machine that balances functionality with higher mail volume handling.
Get tailored franking prices to compare
Give your requirements
Receive quotes to compare
Choose a provider or walk away - your choice!
Get My Quotes
Pitney Bowes SendPro+ – A versatile machine that can handle larger mail volumes and provides additional features like parcel shipping.
Quadient IS-280c – Good for businesses with regular mailing needs, offering efficient processing and cost control.
Frama Matrix F22 – A robust choice for medium volumes, offering a range of features and a semi-automatic feed system.
Large businesses
Large businesses or mailroom operations require machines with high-volume processing, more automation, and advanced features.
Pitney Bowes SendPro C Series – Designed for high volumes and complex mailing requirements, with features like automatic collating and envelope stuffing.
Quadient IS-6000c – Offers high-efficiency processing for large volumes with dynamic weighing and high-speed printing.
FP Mailing CentorMail Max – Known for its durability and high processing speed, suitable for very high-volume mailing environments.
You'll also need to factor in the cost of supplies like ink cartridges and labels, the availability of customer support and servicing, as well as the potential for scalability should your mailing needs grow.
How MailMark franking machines work
The heart of the MailMark system is the barcode frank. This 2D barcode is digitally generated and affixed to each mail item, encoding information such as the item's format, size, destination, and the class of postage paid. When a piece of mail is sent via a MailMark franking machine, the following steps typically occur:
Weight and dimensions: Mail items are weighed, and their dimensions are measured to determine the correct postage.
Selection of service: The user selects the desired Royal Mail service, such as First Class, Second Class, Signed For, or Special Delivery.
Printing the frank: The machine prints the MailMark barcode frank onto the mail item or a label, alongside traditional franking marks including the date, price, and return address.
Data submission: The franking machine transmits data for each item to Royal Mail, often via a LAN or Wi-Fi connection. This allows Royal Mail to prepare for incoming items and streamline their sorting processes.
Mail processing: Mail is collected or dropped off at a postal facility, where it enters Royal Mail's network. The barcodes are scanned, and items are automatically sorted and routed to their destinations.
Advantages of MailMark franking machines
MailMark franking machines offer several advantages over traditional franking:
Cost savings: MailMark users are privy to discounted postage rates compared to stamped or manually franked mail.
Efficiency: Automated weighing and dimension scanning lead to faster processing of large volumes of mail.
Accuracy: The system reduces the risk of human error in postage calculation, ensuring businesses pay the correct rate.
Tracking and reporting: MailMark machines often include features that enable businesses to track spending and mail delivery status, aiding in budget management and customer service.
Professional image: Barcoded mail items convey a professional image, potentially enhancing the perception of the business by recipients.
Getting started with MailMark franking machines
Integrating a MailMark franking machine into your business's mailing operations involves a few key steps:
Assessment of needs: Evaluate your average mail volume and the types of services you frequently use. This will help in selecting a machine with the appropriate capabilities.
Choosing a supplier: Royal Mail authorises several manufacturers and suppliers to provide MailMark franking machines. Compare options to find the best fit in terms of features, price, and support.
Leasing or purchasing: Depending on your financial preference, you can either lease or purchase a machine. Leasing can be a cost-effective option for businesses not ready to commit to a purchase.
Setting up: Installation typically involves setting up the machine with your business's details, connecting it to a network for data transmission, and training staff on its use.
Top-up and maintenance: Regularly top up your postage account and schedule maintenance checks to ensure the machine operates effectively.
In conclusion, MailMark franking machines represent the forefront of postal technology, offering UK businesses a sophisticated, efficient, and cost-effective way of managing their mail. By embracing this technology, businesses can not only save money and improve operations but also project a modern and professional image to their customers and partners.