Franking machines have long been a staple in business environments, providing a simple and efficient way to process mail. One particular model that has been making waves in the UK market is the Frama Matrix F22. Designed to cater to small to medium-sized enterprises, the F22 promises to streamline the mailing process with its array of features.
Let's delve into what the Frama Matrix F22 has to offer and whether it lives up to its promises.
Frama Matrix F22 at a glance
| Specification | Detail |
| --- | --- |
| Processing Speed | Up to 27 letters per minute |
| Scale Capacity | Up to 2kg |
| Connectivity | LAN and Wi-Fi |
| Mailmark Compatible | Yes |
| Printing Technology | Thermal printing |
| Max Envelope Thickness | 10mm |
| User Interface | Colour touchscreen |
| Dimensions | W: 570mm x D: 380mm x H: 210mm (approx.) |
| Weight | Approx. 7.2kg |
Frama Matrix F22 specification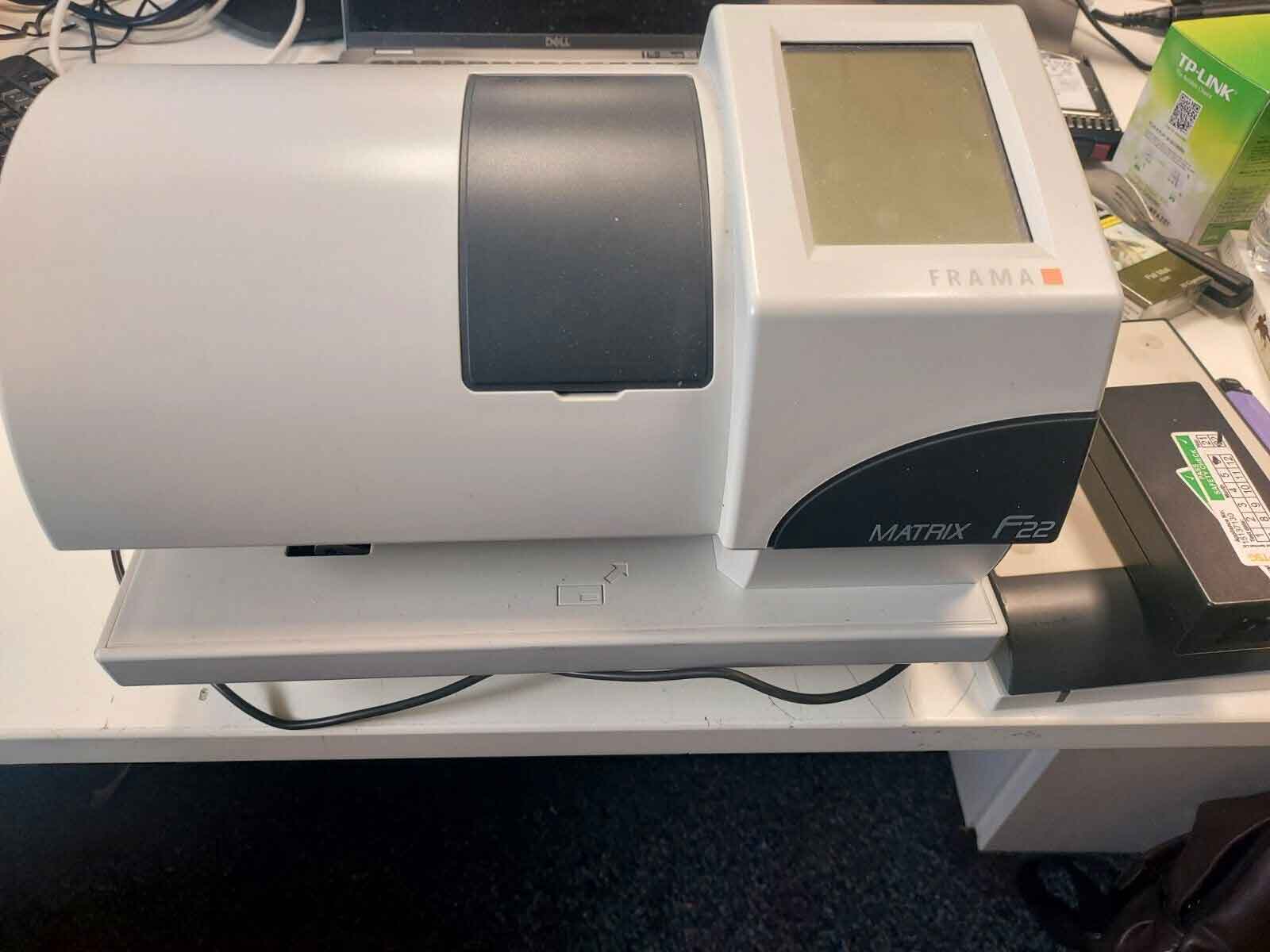 Features and specifications
At the core of the Frama Matrix F22 franking machine is its user-friendly operation. It boasts a touchscreen interface, making it straightforward for users to navigate through its functions. This ease of use is a significant boon for businesses looking to cut down on operational training time.
The F22 also features a built-in scale, capable of weighing items up to 2kg. This integration allows for precise postage calculations, potentially saving costs by avoiding overpayment on postage. The scale's accuracy is crucial for businesses that frequently send out varied mail items, ensuring each piece is stamped with the correct postage value.
Compare quotes for mail franking solutions
Takes 2 minutes
Receive quotes to compare
Easy and no commitment
Get Started
Another critical feature of the F22 is its connectivity. The machine comes with LAN and Wi-Fi capabilities, allowing it to connect to online postal services and receive instant updates on postage rates. This connectivity means the F22 is always up-to-date with the latest Royal Mail pricing, which is essential for compliance and cost management.
Performance and efficiency
The Frama Matrix F22 is not only about its feature set but also about its performance. The machine processes up to 27 letters per minute, which is quite respectable for its market segment. While it may not be the fastest on the market, this rate should be more than sufficient for small to medium-sized businesses.
In terms of efficiency, the F22 uses thermal printing technology, which eliminates the need for ink cartridges. This not only reduces maintenance costs but also makes for a cleaner and more environmentally friendly operation. The machine's ability to print return addresses, logos, and promotional messages also adds to its value, enabling businesses to customise their mail in a cost-effective manner.
Frama Matrix F22 price and cost considerations
When it comes to acquiring a Frama Matrix F22 franking machine, businesses have the option to either purchase the unit outright or opt for a rental agreement. The choice between these two options can significantly impact not only short-term cash flow but also long-term financial planning.
Get tailored franking prices to compare
Give your requirements
Receive quotes to compare
Choose a provider or walk away - your choice!
Get My Quotes
| Cost Type | Purchase (Estimated) | Rental (Monthly, Estimated) | Notes/Savings |
| --- | --- | --- | --- |
| Initial Cost | £1,000 – £2,000 | ££0 | Large initial investment if purchased. |
| Monthly Cost | N/A | ££20 – ££50 | Recurring cost if rented. |
| Maintenance & Service | Included in warranty | Often included | Post-warranty plans increase costs. |
| Consumables | Variable | Variable | Labels, printing rolls, etc. |
| Postage Savings | Up to 30% with Mailmark | Up to 30% with Mailmark | Savings on postage costs over time. |
| Additional Benefits | Ownership | Flexibility | Long-term asset vs. lower initial cost. |
Frama Matrix F22 price and costs
Purchase price
The outright purchase of a Frama Matrix F22 can be a substantial investment, and while the exact pricing can vary depending on the supplier and any ongoing promotions, businesses can expect to pay somewhere in the region of £1,000 to £2,000. This would be a one-off cost, after which the only ongoing expenses would be for consumables and any potential maintenance or repair services outside of the warranty period.
Rental costs
For those who prefer to spread the cost over time, renting a Frama Matrix F22 can be a more cash flow-friendly option. Monthly rental costs may range from £20 to £50, again depending on the provider and the terms of the contract. Rental agreements often include servicing and maintenance, which can provide additional peace of mind and help avoid unforeseen expenses.
Additional costs
Regardless of the purchase method, it's important to factor in the ongoing operating costs. These include:
Replacement of labels or envelopes
Thermal printing rolls (though less frequent than ink)
Service and maintenance after the warranty period (if owned)
Potential overage charges on rental contracts if usage exceeds certain thresholds
Businesses should also be aware of the cost savings that come with a franking machine like the F22. With access to Mailmark™ discounted rates, the machine can quickly start to pay for itself in postage savings, especially for firms with heavy mailing needs.
Estimated savings
To put the cost into perspective with potential savings: If a small business spends an average of £400 per month on postage without a franking machine, using a Frama Matrix F22 and taking advantage of Mailmark™ could reduce this cost significantly, possibly by as much as 20-30%, depending on the types of mail sent. Over the course of a year, this adds up to a substantial saving, which could offset the rental or purchase cost of the machine.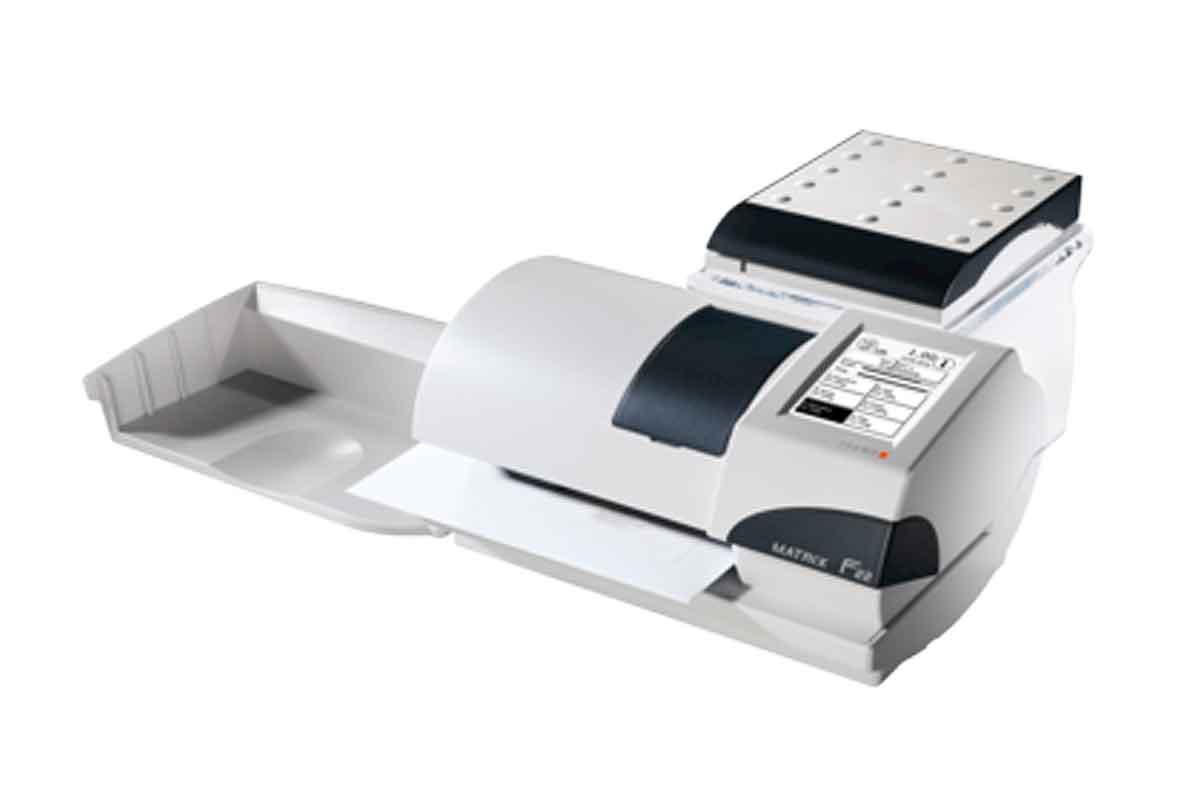 Franking savings with Mailmark
The Frama Matrix F22 is an investment, and for many businesses, cost is a significant consideration. While the initial outlay for the F22 may be higher than some of its competitors, the potential savings on postage and time could make up for this over time.
Moreover, the F22 is Mailmark™ compatible, which means users can take advantage of the lowest postage rates offered by Royal Mail. Mailmark™ also provides additional features such as tracking and reporting, which can be invaluable for businesses that want detailed insights into their mailing expenses and operations.
Frama Matrix F22 – The verdict
The Frama Matrix F22 franking machine is a compelling option for UK businesses that are looking to optimise their mailing processes. With its user-friendly interface, precise weighing scale, and online connectivity, it is equipped to handle the demands of modern post handling.
While the cost may be a barrier for some, the efficiency and potential savings make it a worthwhile consideration.
Businesses should weigh the F22 against their specific needs, considering factors such as mail volume, the importance of branding through mail, and the potential long-term cost savings. For those who find a match in the F22, this franking machine could very well be a smart addition to their operations, providing a blend of functionality, performance, and savings.